Servant of God Thea Bowman will be celebrated by the faithful this weekend at Holy Child Jesus Catholic Church in Canton, Mississippi, ahead of her feast day on March 30.
The church, where Bowman once served as a teacher and musician, will honor her during a Mass on Sunday, March 26, celebrated by Bishop Joseph Kopacz of Jackson, who opened her canonization cause.
Now in its third year, the event will feature special music from the combined choirs of Holy Child Jesus and Sacred Heart Catholic Church in Camden.
"We previously had a [celebration in 2019], where we did music and invited different choirs from around the area. We didn't have it after that because of the pandemic," said Myrtle Jean Otto, who has helped lead music at Holy Child Jesus for 37 years.
"We had what we called Sister Thea Day."
Otto was once a student of Bowman's at Holy Child Jesus Catholic School, singing as a child in the choir she directed. Bowman also attended the school in the 1940s, and it was there that she decided to convert from the Methodist tradition and become a Catholic.
Bowman joined the Franciscan Sisters of Perpetual Adoration in the 1960s at the age of 15, becoming the congregation's first Black member and later a noted activist, speaker, liturgist, and evangelist. She died from cancer in 1990 and her cause for canonization was opened in 2018, gaining her the title "Servant of God."
Among the seven African-American sainthood causes, Bowman's is perhaps the most active. Her legacy likely includes more renamings than any of the others—including seven schools; multiple apartment complexes; a street, chapel, and homeless shelter in Washington D.C.; and numerous university centers across the country.
An hourlong documentary on her life, "Going Home Like a Shooting Star", premiered last year on ABC featuring Otto and others describing their experience knowing and learning from Bowman. The film is peppered with music from Bowman's many performances and lectures, for which she became nationally known.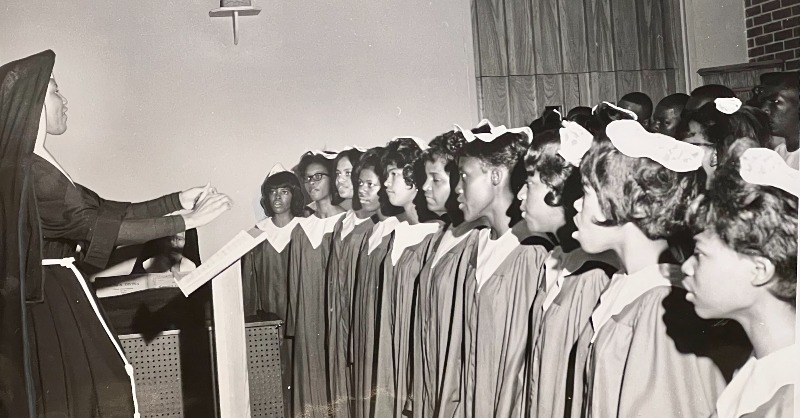 Sunday's Mass at her former church will feature some of her favorite songs, as well as a recorded track from the 1967 spirituals album "The Voice of Negro America" by The Holy Child Singers, which Bowman helped organize at the Canton school.
"We're doing some music that she liked to sing," said Otto, who was a member of the group.
"I went a lot of places with her. Learned different music, went to the Catholic University of America. We also had workshops when she was involved with developing the 'Lead Me, Guide Me' hymnal."
The liturgy at Holy Child Jesus is scheduled for 11:30am CT, after which the community will hold a reception with refreshments. As for the final goal of sainthood, Otto says that would be the most refreshing of all.
"We just can't wait. I know that's going to be a big, big day when it does happen," she said.
"We just want to keep her name going and keep doing things in her name, you know, and not to forget her. She did a lot for Black Catholics and for everybody."
---
Nate Tinner-Williams is co-founder and editor of Black Catholic Messenger and a seminarian with the Josephites.
---
Want to support the work of BCM? You have options.
Comments